About The Youngtown Inn.
The Youngtown Inn is a classic 1810 farmhouse built proudly upon two centuries of New England heritage. This grand old house was the center of the Young's family poultry and dairy farm for more than seven generations.
Now known as The Youngtown Inn, the heart of the  house has been immaculately preserved and lovingly kept by owners Karrie and Michael Nowak. The Inn's worldwide reputation and recognition includes the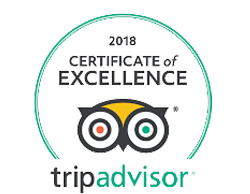 Fodor's Choice Award for eight consecutive years.
Located along Route 52 near Lake Megunticook, it is the perfect vacationing spot for exploring the mid-coast of Maine, taking ferry rides to nearby islands, swimming, boating, visiting the area's quaint shops, the Nature Conservancy and concerts at the Opera House , Pop Tech in late October, as well as the Lobster Festival in the beginning of August in nearby Rockland. In winter, the Camden Snow Bowl is a major attraction.
The Inn is as welcoming a building as you could hope for. A stately white-clapboard farmhouse with black shutters and gold trim, lit up for dinner with its windows all aglow….it seems an outpost of worldliness and refinement along a serene country road. The inside of the Inn is equally welcoming. Warmed by a Vermont Casting wood stove and brightened by arrangements of fresh flowers, the extended dining room is nicely understated. Stenciled white walls, hung with French prints, ascend beamed ceilings and naturally finished pumpkin pine floors that shine underfoot. A small oil-lamp illuminates each white-clothed table.

Spanning the second and third floor are the Inns guestrooms and parlor. All rooms are comfortably spacious and tastefully decorated with a country French flair. The second-floor Parlor Room invites visitors to browse through leather-bound books, and a soak up local lore or test out the board games squirreled into a niche beside the cozy fireplace. 
The Inn with its sunny verandas and impeccable hospitality is a warm and inviting establishment and romantic getaway in this beautiful setting of rural Maine.